M805DUC Noise Cancelling Headset With Mic
Frequently Bought Together
Description
High Quality Sound: Mairdi USB telephone headset with a built-in unidirectional noise-canceling microphone can block out unwanted background noise for loud & clear precise voice picks-up, greatly ideal for clear conversation, dragon nuance voice recognition, and speech dictation. Wide-band speaker ensures HD audio sound and natural hearing for this computer headset, with anti-acoustic-shock to protect hearing health.
Multi-purpose and Wide Compatibility: Mairdi computer headset with microphone is ideal for working from home, office business conference calls, webinar presentations, call center softphone calls, speech dictation, online courses, Skype chat, and language learning. Compatible with Windows, Mac OS X, iOS, Android, laptop, and Tablet PC, and work well with major leading softphone platforms including Skype, Skype for Business, Microsoft Teams, Lync, Zoom, Cisco Jabber, and more.
Noise Reduction Sound Card & Easy Access Control: Plug and play PC headset with convenient inline Volume Switch & Mic Mute for easy access. A Built-in noise-reduction sound card of the control box to suppress unwanted noise and echo from devices. USB headset with DSP technology provides outstanding audio on both transmit and receive.
Super Comfortable USB Headset: lightweight design, super soft ear cushion with memory foam and skin-friendly protein leather allow this Skype headset for all-day long wearing, easy adjusting headband makes sure overall fitting for different head sizes. With gooseneck microphone arm 330°rotatable for multiple adjusting to pick up voice well.
2-Year Warranty & Great Durable: Mairdi call center USB headset with stainless headband, quality plastics, superior microphone, and speaker allow for demanding use. Reinforced cord built with Kevlar to withstand the demanding environments and to protect against office chair wheels, and sharp objects for daily use. All of our headphones come with a two-year manufacturer's warranty that covers product defects. It does not cover misuse, loss, or theft.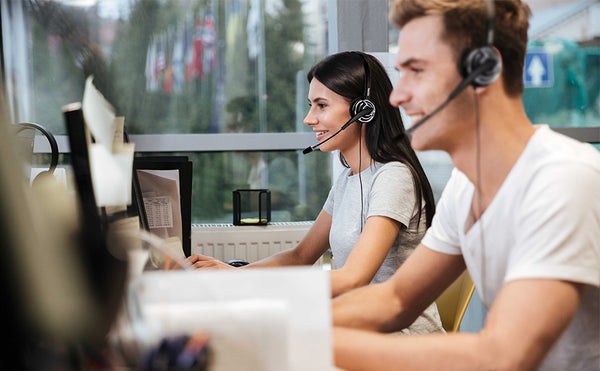 This headset is comfortable enough to wear during even the longest conference calls thanks to soft, well-padded earcups that don't put any pressure and pain on your ears, and it has the best sound quality for voice calls, professional for call center and office communication use.

With the overall performance of sound quality and full functions, it can be also used for music, movie, and gaming.

With noise canceling microphone for crystal clear voice transmitted to the other end even in a noisy environment.

Reliable for long-time use, ensure you a happy communication experience and save you time dealing with cheap and a junk USB headset.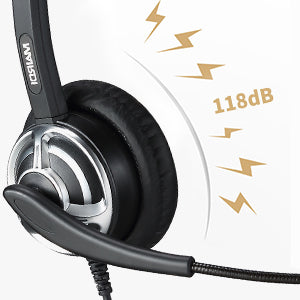 There is PCB circuit attached to the headset speaker to protect user against sudden loud sounds and to greatly reduce risk of hearing damage.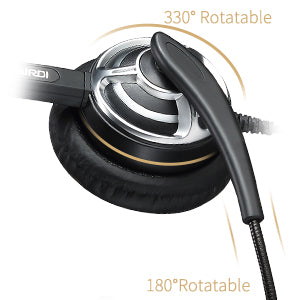 330°rotatable microphone arm enables the headset to be worn on either side. 180°rotatable joint of speaker and headband for easy adjusting ear cover to properly sit on ears.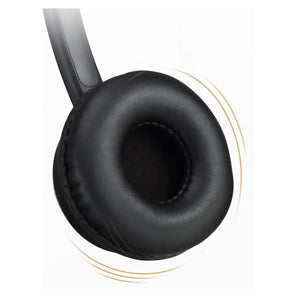 Super soft and comfortable protein leathrette ear cushion, user-friendly hygiene and reliable to withstand worn.

Noise cancelling microphone, Mic boom 330° rotatable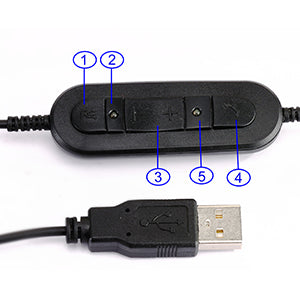 In-line Integrated Control
Integrated in-line mic mute and volume control
With call button to answer and end calls optimized for Microsoft Lync and Skype

① In-line microphone mute: press the mute button to activate mute , press again to de-activate the mute.
② Microphone mute LED indicator(red)
③ In-line speaker volume controller: press "+" to increase speaker volume, press"-" to decrease speaker volume
④ In-line hook for answer/end call: press the button to answer the call , press again to end the call
⑤ Hook LED indicator( green)
Reviews
Very comfortable. Works great for Teams and Zoom.
This is literally plug n play. No issues getting started with this headset!
M805DUC Noise Cancelling Headset With Mic
Very comfortable. Works great for Teams and Zoom.
This is literally plug n play. No issues getting started with this headset!