Frequently Bought Together
Description
High Quality Sound: Mairdi USB headset with noise cancelling microphone has HD audio sound to ensure easy and clear communication for call centers, offices and home PC chat even in noisy environments. Wideband audio solution offers natural and clear hearing. Anti acoustic shock to block out sudden sound for hearing protection.
Plug and Play: Directly connect the headset to a USB compatible devices. Headsets fit for Skype, Computer, Laptop, PC, Mac, Microsoft Lync, Cisco, Skype and Most leading UC platforms, perfect for voice call and music. TOP END USB CHIP with DSP technology to optimize speaker sound and microphone voice for clear communication.


Super Comfortable: Skype phone headset with plush soft protein leatherette ear cushion, user-friendly hygiene. Adjustable headband to fit for different head sizes, ear cover rotatable, no pain no push to ears for all day long wearing. Microphone arm 330 degree rotatable for wearing mic on either side, professional PC headset for softphone in call centers and offices.


Great Durability: Light weight and tough design, stainless steel headband, superior quality speaker and microphone, reliable plastic parts. Reinforced cord built with Kevlar to withstand demanding environment and to protect against office chair wheels, sharp objects for daily use. 


2-Year Warranty & Volume Contril: Easy to access volume and mute controls in the cord. You can quickly adjust the headset volume up/down, mute/un-mute the microphone. We promise 2-year warranty. In case there is any question or problem using the headset, please send us message. We will reply within 24hs ASAP.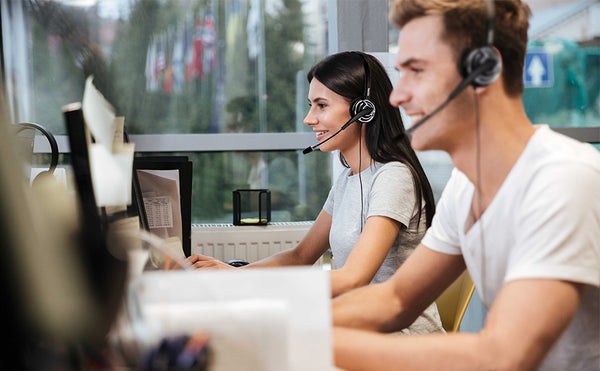 This headset is comfortable enough to wear during even the longest conference calls thanks to soft, well-padded earcups that don't put and pressure and pain on your ears, and it has the best sound quality for voice calls, professional for call center and office communicaiton use.

With overall performance of sound quality and full functions, it can be also used for music, movie and gaming.

With noise cancelling microphone for crystal clear voice transmitted to the other end even in noisy environment.

Reliable for long time use, ensure you a happy communication experience and save you time dealing with cheap and junk USB headset.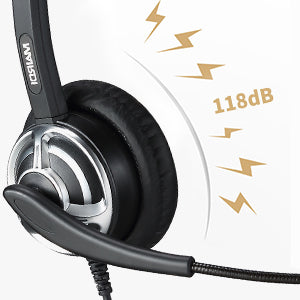 There is PCB circuit attached to the headset speaker to protect user against sudden loud sounds and to greatly reduce risk of hearing damage.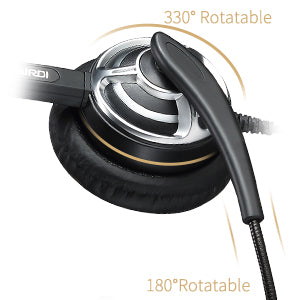 330°rotatable microphone arm enable headset to be worn on either side. 180°rotatable joint of speaker and headband for easy adjusting ear cover to properly sit on ears.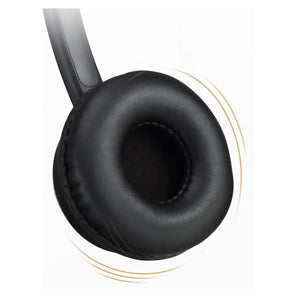 Super soft and comfortable protein leathrette ear cushion, user-friendly hygiene and reliable to withstand worn.

 Noise cancelling microphone, Mic boom 330° rotatable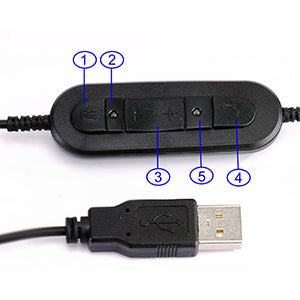 In-line Integrated Control
Integrated in-line mic mute and volume control
With call button to answer and end calls optimized for Microsoft Lync and Skype

① In-line microphone mute: press the mute button to activate mute , press again to de-activate mute.
② Microphone mute LED indicator(red)
③ In-line speaker volume controller: press "+" to increase speaker volume, press"-" to decrease speaker volume
④ In-line hook for answer/end call: press the button to answer the call , press again to end the call
⑤ Hook LED indicator( green)
Reviews
Good headset for WFH environment
This USB headset meets my WFH need: it can handle online conference calls easily. Its noise cancellation feature seems working.
M805UC USB Noise Cancelling Headset
Good headset for WFH environment
This USB headset meets my WFH need: it can handle online conference calls easily. Its noise cancellation feature seems working.