Introduction:
In today's blog, we will introduce a wireless headphone, which is the mairdi M890DBT wireless noise cancelling headphones with microphone, which is perfect for those working from home or the office call center. This headset not only provides noise reduction and microphone mute functions, but also provides the convenience of wireless connection. Let's explore its features and put it to the test.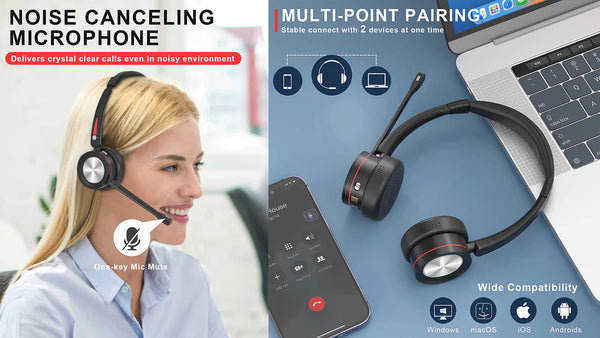 Features:
The headset comes with a USB dongle for easy connectivity to computers, along with a docking station and a micro USB charger. Long battery life, 40 hours of talk and music time on a 2-hour charge. The headset features an on/off switch for battery conservation and automatic shutdown when not in use. Additionally, the microphone has a charging area, and you can connect it directly to the headset using the micro USB connection.


Design and Comfort:
With its sleek design, the headset offers a professional look and a soft cushion for comfort during extended use. The 330-degree rotatable microphone is reversible so that the earphones can be used on the right or left side. The adjustable headband allows you to find the perfect fit without restrictions and offers excellent durability. The curvature of the microphone ensures optimal positioning towards the user's mouth. While the headset has one fixed speaker, it delivers clear sound quality reminiscent of operator headphones.


Functionality:
The headset provides volume control through buttons for adjusting audio levels according to personal preference. Although the mute mic only works with calls from mobile phones, its directionality effectively captures the user's voice. Call control functions such as answering and hanging up will also be indicated by beeps. The headset's range is impressive, with interference-free audio extending up to 20m(60ft).


Noise Cancellation Test:
To assess its noise-canceling capabilities, we conducted a test by playing crowd noise in the background while recording audio. The headset proved successful in isolating the user's voice, effectively blocking out the simulated noise. This feature is handy for individuals working from home, as it maintains clarity during online meetings and conversations. Enjoy clear, consistent sound with multipoint pairing for PC and cell phone.


Conclusion:
In conclusion, this wireless noise-canceling headset offers a range of features that make it an excellent choice for remote workers and those seeking privacy. Its convenient wireless connectivity, effective noise cancellation, and comfortable design make it an ideal companion for productive and uninterrupted communication. Despite the microphone muting only working with calls from mobile phones, some third-party software, and PC-based applications are incompatible, the headset excels in delivering clear audio and keeping background noise at bay.
Curious about the sound quality, wearing comfort, and real-life noise cancelling experience of Mairdi headset? Don't hesitate to check out this fantastic review from Upgrade. More surprises await in the video!
Tech Talk Show. Reviews on latest hardware and software, research and product testing on newly developed and upcoming cutting edge hardware & software.